Smartphone Regular Browsing Mode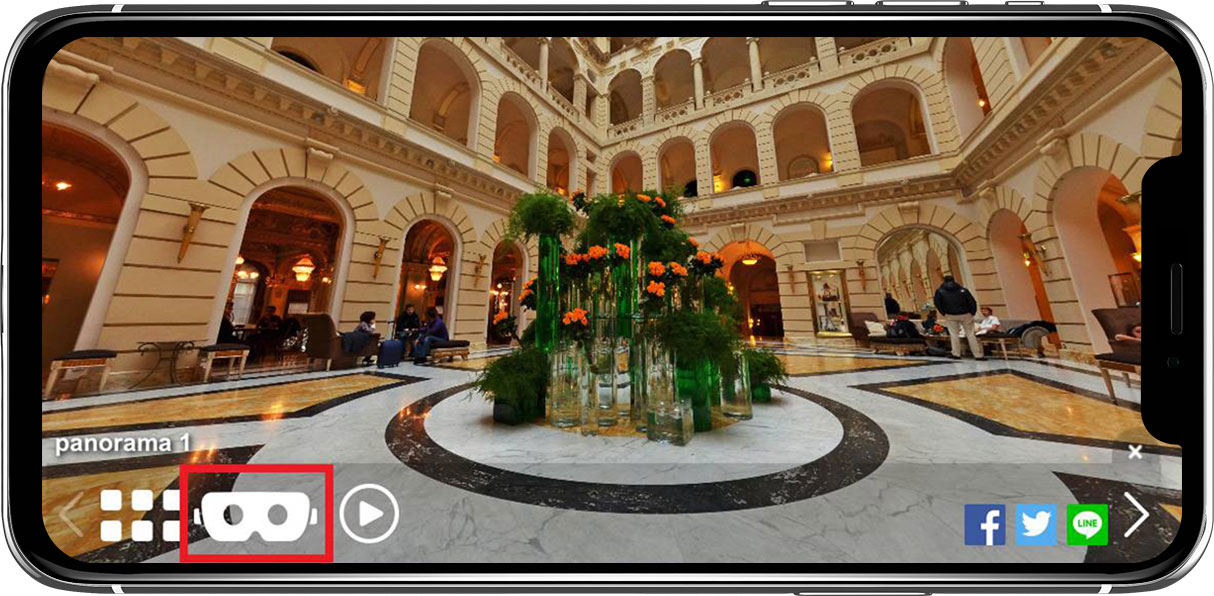 Set the screen sideways and tap the icon to switch to VR viewing mode.
Smartphone VR Browsing Mode
The screen switches to left and right.
You configure the settings so that you can browse optimally with your VR goggles.
Tap the screen to display navigation. Tap Setup.
Please adjust the IPD values based on the user's interpupillary distance by pushing the left and right arrows. After configuring the settings, you can finish with SAVE. (If the focus does not match after you set it up, please try changing the value again)
Please see the center of the smart screen and the center of the lens of our VR goggles.
Advanced settings explanation
Device: Basically, it is automatically detected and displayed.
Screensize: Basically, it is automatically detected and displayed.
If device recognition is not performanced automatically, manually change it to the screen size value.
IPD: Sets the interpupillary distance (IPD) using millimeters (mm) as units. It adjusts values by individual differences.
VR Headset: You can select the settings for some VR headset lenses.
Customize: You can set the advanced settings for your headset.
Single VR Mode: ON indicates monocular mode. OFF indicates binocular mode. Select the one for your headset.
Calibrate Gyroscope: To calibrate the gyroscope, place it on a level and stable location such as a table, press "CALIBRATE",
and do not move for a few seconds until calibration is completed.
SAVE: If you tap SAVE, the changes to your settings will be preserved.
③ Details of VR Headset Customization Options
FOV: The degrees of the vertical field of view. The span of the adjustable range differs depending on screen size.
Vignette: Adjusts to hide lens edge or unneeded areas. Can only be used when Dist2 is set. Adjustable between 10 and 200. The lower the number, the narrower the field of view.
Overlap: Adjusts the overlapping parts of the left and right images. The value depends on the distance and shape between the lenses. The default value is 1.00.
Distortion: Lens distortion correction Adjustable from 5.00 to 0.00 (0.00=distortionless)
Dist2: Used for additional distortion correction when the distortion correction from the Distortion setting is not adequate Default values are 1.00 | 0.00 | 0.00 | 0.00.
CA Corr: Chromatic aberration correction (color fringe correction) scales the red and blue color channels. Adjusted from +1.00 to -1.00 0.00 = Off