Operating Screen for the Viewer
Screen for smartphones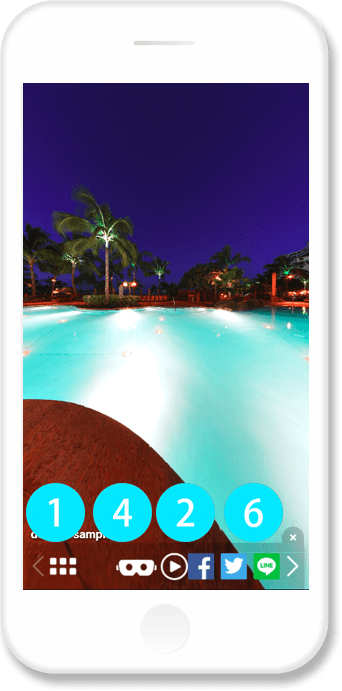 Screen for PC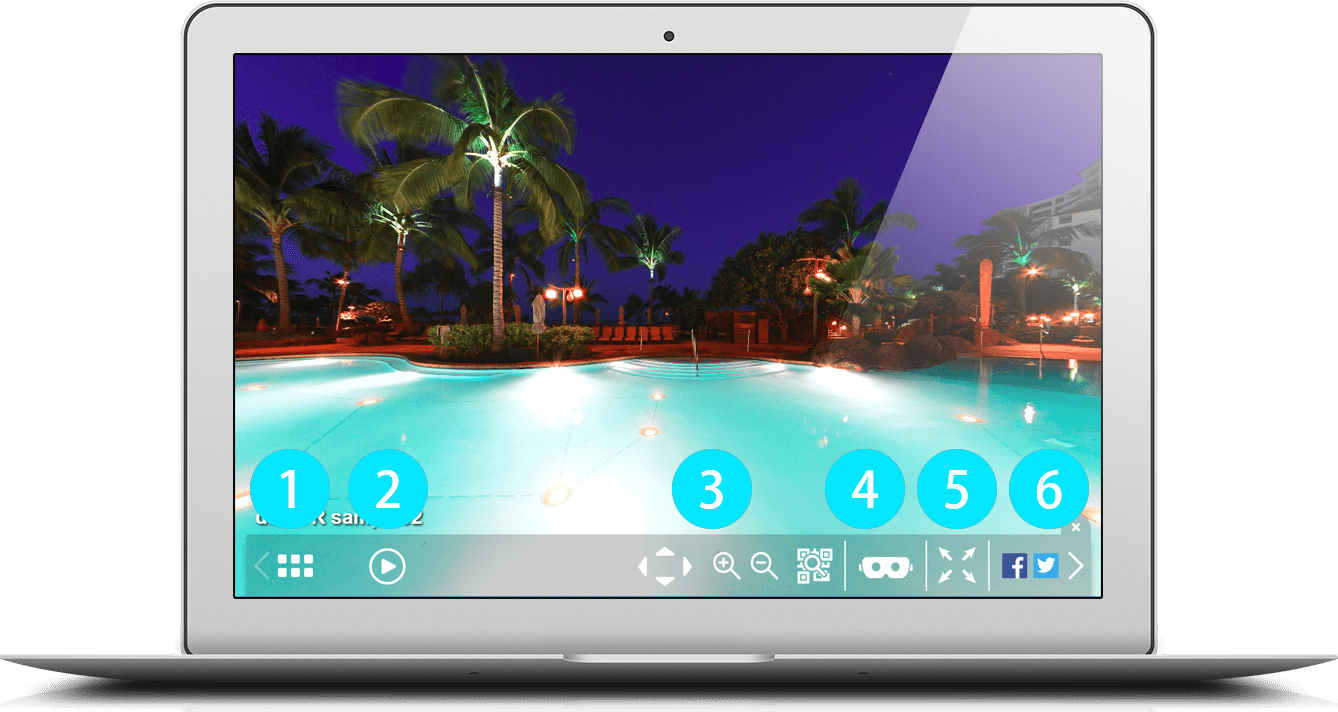 Screen for PC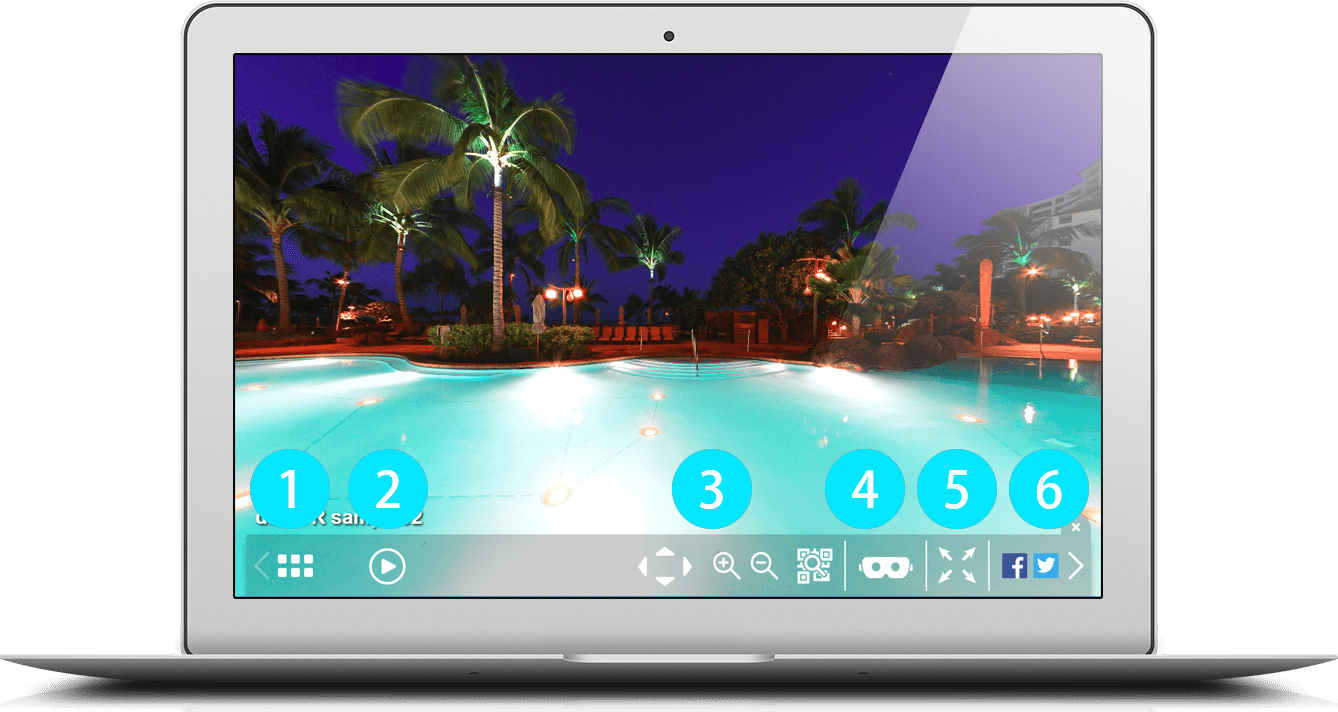 Screen for smartphones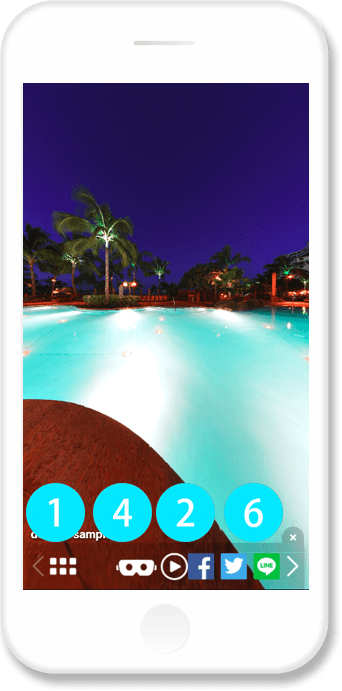 Panoramic image catalog button

You can display a catalog of movable panoramas You can click on the panorama to move. You can move to the next panoramic image by clicking the arrow.
Auto preview button

Switch panorama from manual operation to automatic preview mode.
Controller(PC only)

Although you can control the panorama freely with a mouse, you can also do actions like moving or magnifying using a controller.
Goggles mode

Switch to VR scope or VR goggle mode. Up, down, left, and right contents move in the direction that the terminal moves in.
Maximize button(PC only)

You can enjoy panoramas in full screen.
SNS share button

VR content can be shared on Twitter, Facebook, and LINE. Information can be transmitted in real time.
*LINE is only displayed on smartphones.
Explanation of expression techniques
Scene change

You can make a scene change point that will move you to another place.

By being able to move freely elsewhere, you can reproduce details of actual places.
Image pop-up display

You can display explanatory images of that point and images such as magnified photos in a pop-up window.
Video pop-up playback

Click the playback point to display a video screen in a pop-up and play it.
Message display

Displays text-only information.
External links

You can move to any website from the icons that are placed.
Audio playback

For each panorama (scene), you can set mp3 sound files such as music or narration, and those files will automatically open when you open the panorama. The user can switch it on or off.
Company logo

A company logo, product logo, etc., will be displayed on right or left side of the top of the screen.

(Installs on the side opposite to the floor map) If you click on the logo image, you can make a link to a specific URL.
Round logo

You can place a round logo to hide the tripod at your feet.

We recommend that you create a round image. If you click on the image, you can make a link to a specific URL.
Floor map

Creates a floor map of the facility based on a plane view and display it on the right or left side of the top of the screen. You can grab your current location or click on a marker to move.
Viewing angle restrictions

Within 360° horizontally and 180° vertically, you can trim the panoramic image and set areas not to be displayed.


In addition to the icons that are prepared in advance, you can upload an original icon that you have created and use it.
Recommended usage environment
PC version
Management screen recommended usage environment.
Google Chrome 40 or later
*The most recent version of Google Chrome is recommended
Microsoft Internet Explorer 11 or later
Most recent version of Microsoft Edge
Firefox 35 or later
Safari 8 or later
PC version
Recommended operating environment
Google Chrome 40 or later
*The most recent version of Google Chrome is recommended
Microsoft Internet Explorer 11 or later
Most recent version of Microsoft Edge
Firefox 35 or later
Safari 8 or later
Smartphone / Tablet Version
Recommended operating environment
iPhone / iPad: iOS version 9.0 or later, and most recent version of Safari
Android: Android 5.0 and later
Android Chrome version 20 or later
Android Firefox version 18 or later
Most recent version of Opera for Android